Van Shelving Kits
Are you a trades person with a van? Have a problem storing your tools and spare parts? A Van Shelving kit may be the solution! Ideal for electrical, plumbing or appliance repair trades, fitting out your trade van has never been easier! These Van Shelving kits are designed to provide a cost-efficient solution for storing spare parts, tools and loose items in trade vehicles. Manufactured using robust, heavy duty slotted angle and supplied as a DIY kit delivered to your door in the Adelaide metro area.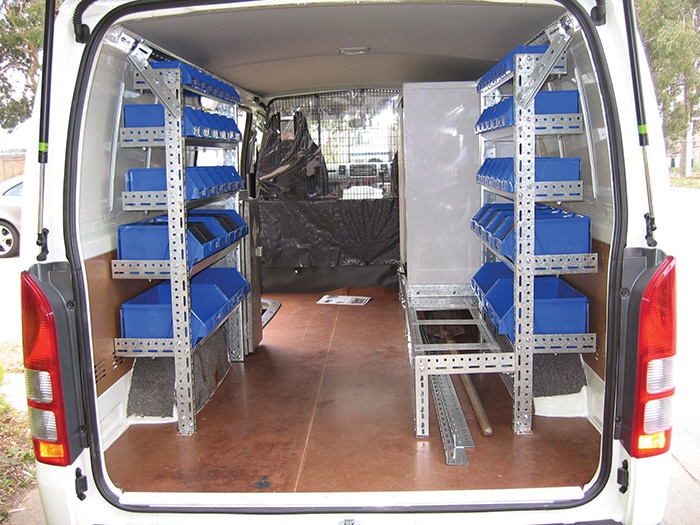 Our Van Shelving kits are designed to sustain day-to-day wear and tear. You never need to worry that you will turn up on site only to spend precious time searching for parts or tools in the back of your van. Van Shelving also helps you make better use the space in your van to store more parts and materials for a wider range of scenarios and minimise your Customer waiting time.
These Van Shelving kits are extremely popular with Adelaide trades people and are provided as a DIY package complete with assembly instructions that can easily be installed by a handy person with the aid of a few tools.
Van Shelving kit is 1250mm H x 1000mm L x 300mm D & complete with:
5 x Fully Adjustable galvanised steel shelves
8 x 1.0L/12 x 2.5L/4 x 6.0L/2 x 12.0L removable polypropylene containers