Pallet Racking to Streamline Your Operations
At Maxstor we have Pallet Racking solutions to suit every Customer, from the highly popular selective pallet racking, to more niche Double-Deep or Drive-In options that better suit some businesses. If you're not certain which option is best for you, our team in Adelaide can guide you through the benefits of each.
Whether you have a single warehouse in Adelaide or further afield, whether they are large or small, we will work with you to find the racking and storage solution that suits the specific needs of your business.
Selective Pallet Racking
Selective Pallet Racking is the most widely used form of pallet racking for three main reasons.
It achieves high stock rotation. When an item is placed in the rack, it does not restrict access to any other pallet and allows 'first-in, first-out' stock of rotation; 100% access to all pallets is achieved at all times.
It allows for 100% visibility of what products are in stock at any given time. Selective Pallet Racking can help minimise missing or misplaced products and delays in locating the right stock.
Selective Pallet Racking is flexible; it can be relocated, it is easily adjusted to suit different pallet dimensions and may be extended for expansion.
Finally pallets can be placed into and removed from the racking with counter balanced fork trucks or walkie stackers.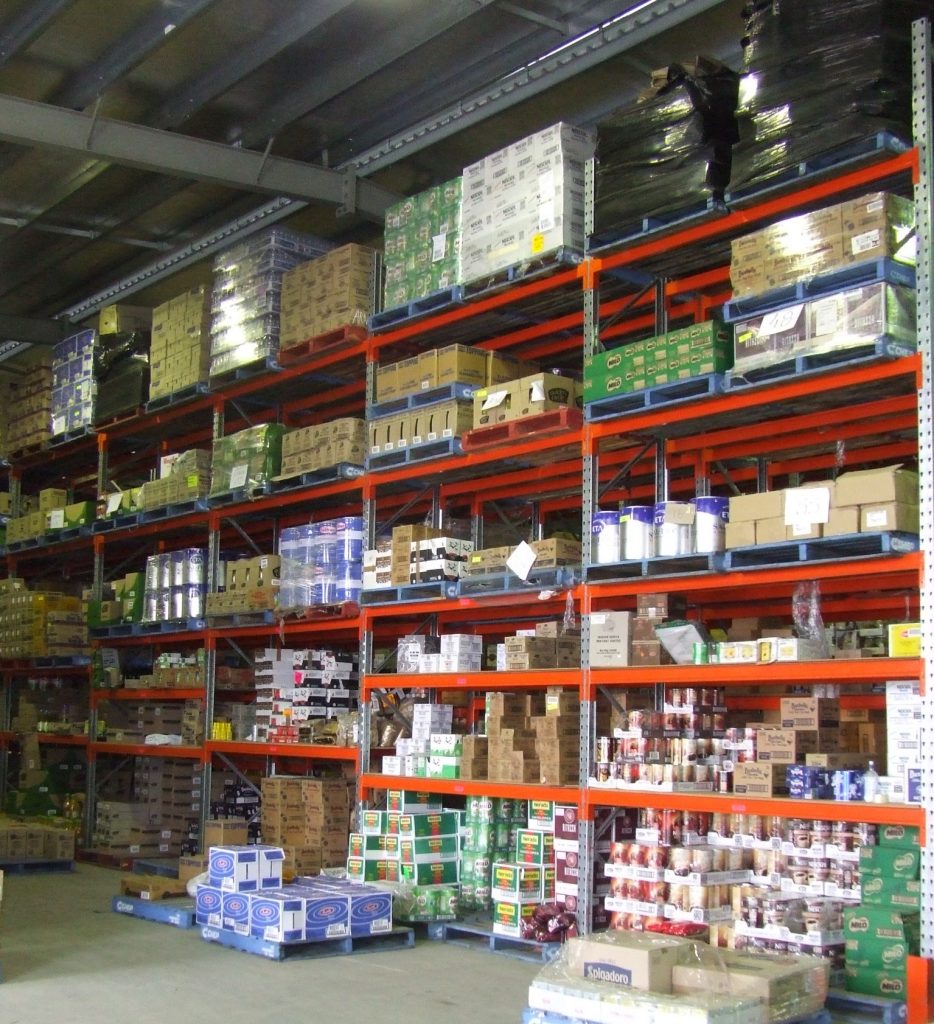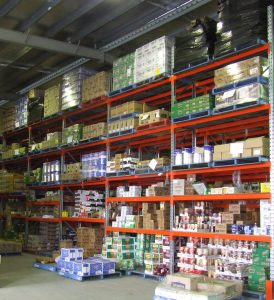 A range of standard bay widths, depths and heights are available with various beam and column sections to suit the span and loading configuration. Beams positions are easily adjustable at 76mm vertical increments.
An extensive range of accessories is available to suit a variety of special selective pallet racking storage applications.
Pallet racking supplied by Maxstor Pty Ltd does not compromise on durability and safety and complies with AS4084 – 2012: Steel Storage Racking.
Other Types of Pallet Racking 
Other types of Pallet Racking that businesses may find better suit their needs.
Drive-In Pallet Racking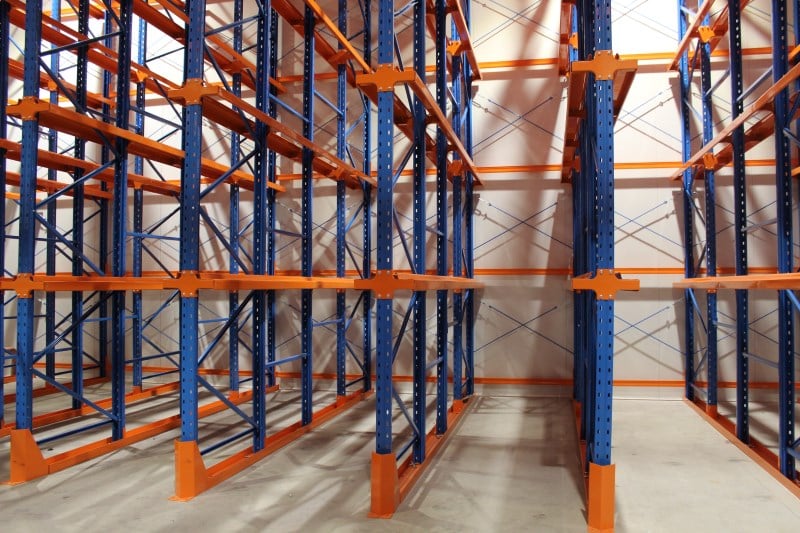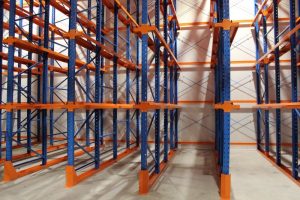 Drive-In Pallet Racking is ideal for businesses in which pallet selectivity is not a priority; as may be the case when storing a large volume of product of the same type or where high density storage achieves operating efficiencies, as in the case of cold rooms or freezers.
Drive-In Racking comprises a number of lanes in which pallets are placed end to end and one above another on several levels. Instead of beams to support the pallets, Drive-In Racking uses support rails either side of the pallet that allow a forklift to enter the aisle to place and remove pallets on the support rails or floor. Drive- In Racking allows a large number of pallets to be stored in a densely configured 'stack' however it limits access to pallets as it works on a 'first-in, last-out' basis and stock rotation is limited by this.
Drive-In Racking is engineered to suit every application with both plan and spine bracing required to provide stability of the system. Floor guide channels with rack entry post protectors are fitted at floor level to position floor level pallets and help prevent accidental damage to the uprights.
Narrow Aisle Pallet Racking
Narrow Aisle Pallet Racking utilises standard Selective Pallet Racking with narrow operating aisles to achieve denser storage and therefore greater utilisation of the warehouse area than can be achieved with Selective Pallet Racking, while still providing 100% access to stock. Narrow Aisle Pallet Racking is typically used where the available warehouse space is at a premium and requires special and therefore more expensive mechanical handling equipment or automated storage and retrieval equipment, operating with guide rails in the narrow aisles. Applications may include storage of furniture, spare parts, order picking, pallets.
Double-Deep Pallet Racking 
Double Deep Pallet Racking as the name implies uses standard Selective Pallet Racking configured to store pallets two deep. Both pallets are accessed from one aisle therefore reducing the number of aisles required in a warehouse by approximately 50% thereby increasing the density of the pallets stored and increasing utilisation of the warehouse area.
Double Deep Pallet Raking is cost effective means of increasing the number of pallets stored most suited to storage of like product with high turnover, as selectivity of pallets is reduced.
Racking Accessories
An extensive range of accessories is available to cater for special applications and ensure the safety of the racking is maintained.
Mesh decks Provide secure safe storage for undersized pallets or items such as cartons. Also supplied with Dividers to convert mesh decks to binning for stock segregation.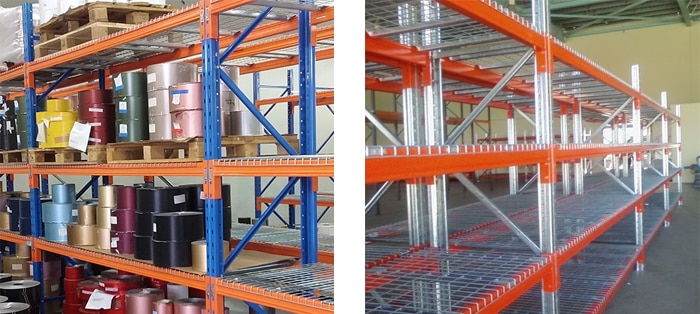 Column protectors Protect rack upright posts from accidental damage from forklift impacts etc.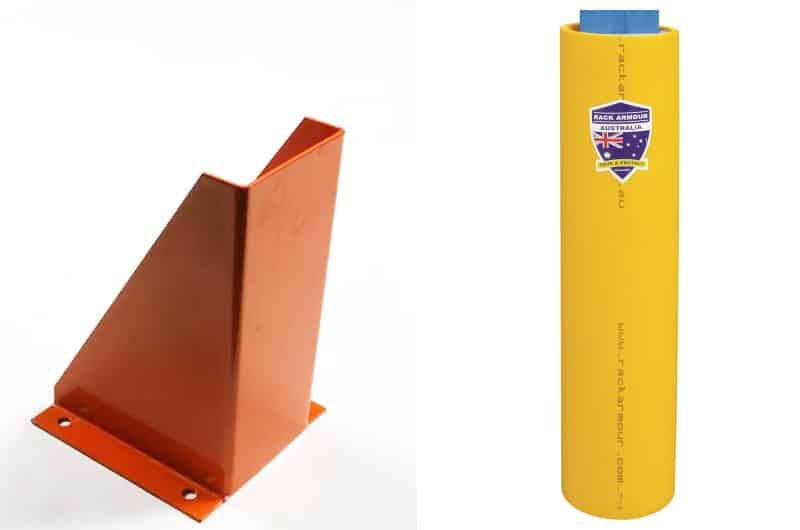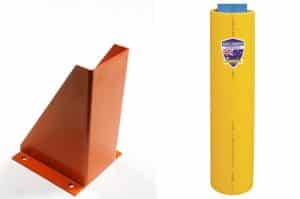 Load Support Bars Support long un-palletised goods such as bundles of steel & pipe.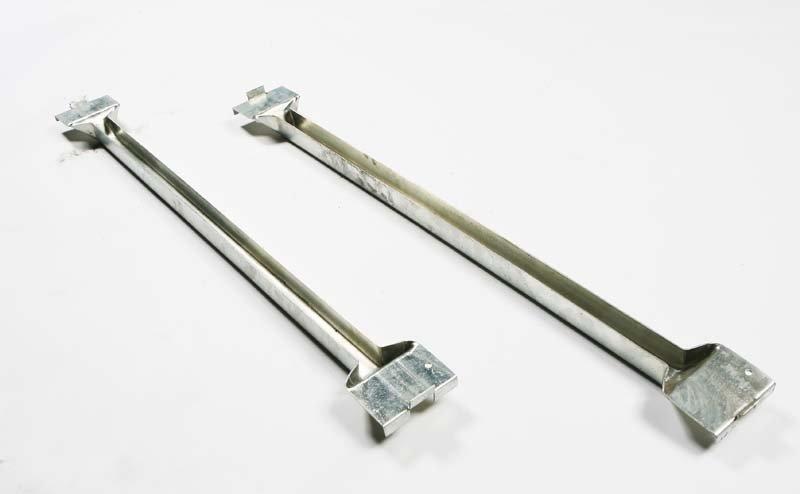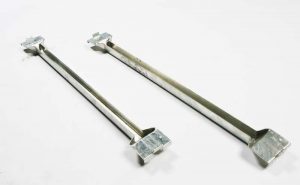 Load and Maintenance Signs Provide information about the safe operation and maintenance of Pallet Racking.
Safety Screens Form a safety barrier protecting pedestrians and workers from stock accidently falling from pallets located in the racking.