An extensive range of Industrial Shelving available in Adelaide from Maxstor Pty Ltd to suit all your shelving needs including:
Roll Post shelving

Applications: Spare Parts, Archives, Small Cartons, Apparel & Manchester
Roll Post shelving is widely used for the storage of small quantities of items that can be picked manually. Shelving can be configured either in single sided or double sided rows. Medium Duty Roll Post shelving can be used for heavier items or two tier shelving to maximise storage where the floor area is limited but adequate ceiling height is available.
Known also as Rolled Upright Tight (RUT) shelving or binning.
An extensive range of accessories allows the shelving to be divided into smaller compartments.
Standard Sizes
Heights: 1875, 2175 & 2375 mm
Bay Widths: 750, 900, 1200 mm
Bay Depths: 300, 400, 450, 500, 600 mm
Shelf capacity: Up to 230 kgs Uniformly Distributed Load
Finish: Grey or Beige pre-painted steel
Accessories: Bin Fronts, Dividers, Roll Out Drawers, Plastic Bins
Long Span Shelving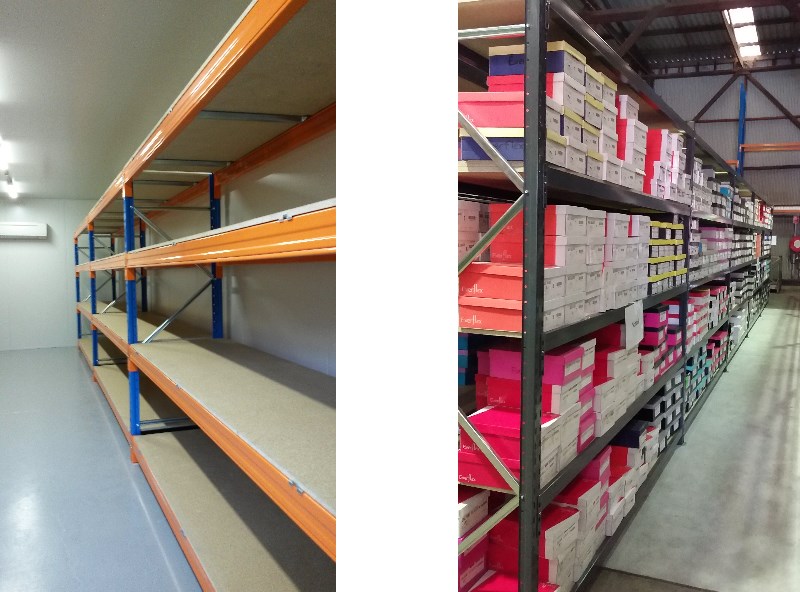 Applications – Large spare parts, archive boxes, cartons, loose furniture.
Long Span Shelving utilises either pallet racking for heavy duty applications or channel post frames and lightweight beams for light to medium duty applications. Long Span or Widespan Shelving is supplied with either particle board, plywood, mesh or fabricated steel shelves fitted to the beams to store non-palletised items. Shelving may be configured for manual picking from ground level or several metres high for use with stock pickers for high volume storage applications.
A range of Long Span Shelving bay heights, widths and depths is available with beam and column sections to suit the span and loading configuration.
How to Choose the Best Shelving Units For Your Home, Business, and Garage
This article will provide an overview of different shelving unit types and their uses, then list out some of the best shelving units on the market.
Shelving Units
There are many different types of shelving units available today, each with various purposes and benefits. The most important things to consider when choosing a shelving unit are:
Purpose: What do you plan on storing? What do you need to be able to reach?
Size: How much room do you have? Do you need it for storage or display?
Materials: Wood, metal, glass, wire etc.
What is the Best Type of Shelving Unit and Why?
Shelving units are a very popular feature in any home. When selecting the type of shelving unit to use in a room, there are many factors to bear in mind. Firstly, the size and shape of the space available will largely determine what type of shelving can be used. Secondly, one must carefully weigh up the advantages and disadvantages of each type before deciding which is best for them.
Each shelving unit has its own pros and cons. For example, open shelving is great if you want your things to be visible because it invites people into your personal space but it doesn't provide any privacy or security from prying eyes – whereas glass-fronted cabinets provide that sense of security by not allowing anyone to see inside them but they don't invite people into
The Different Styles of Industrial Shelves
Industrial shelves are integral to the storage of goods in warehouses. These are specifically designed for durability and safety.
Industrial shelves can be made from different materials such as steel, wood, plastic and aluminum. Steel is popular because of its great strength and durability. Wood is another popular material as it's affordable and durable as well. Plastic is also a good option because it's lightweight, cost-effective and more durable than aluminum.
Industrial shelves are usually made of metal and come in two different styles.
Wall-mounted shelves: Wall-mounted shelves can be mounted on an upright pole or a wall. The installation process is not complicated and it saves space. Wall-mounted shelves can be installed on any surface, as long as it is sturdy enough to support the weight of objects placed on the shelf. It also saves a lot of space and is easier to install than other types of industrial shelves, but they cannot accommodate tall items like jars and bottles without having to take them off the shelf each time you need one.
Ground-based shelf: Ground-based shelves are installed at ground level or just below it. This type of industrial shelve is easy to maintain because there's no need for assembly, tools or hardware.
Industrial shelves often come in different designs and styles.
The Complete Guide to Shelves, Racking Frames, Pallet Racking & How it Can Help You with Your Storage Needs
A storage solution is needed in order to store goods and other items in an organized manner. People often do not have sufficient space in their homes, so they may opt for a storage space that offers the capacity for their belongings.
Shelves are one type of storage that can be used to store all sorts of items that are not needed on a day-to-day basis. Shelves provide easy access to goods when they are needed. They also help with maintaining order by keeping items neatly arranged by height, shape, or color.
Aside from shelves there are other types of storage solutions such as racks and racking frames which can be used to store goods in warehouses, factories, offices, shops or even homes too.
Pallet Racking is also another option for people who would like to take.
What are Shelves and Pallet Rack?
Shelves are the most common way of storing books, CDs, DVDs, and other media.
A pallet rack is a type of industrial shelving that can be used to store goods in high-density storage environments.
Industrial shelving is very popular in warehouses where the goods have to be stored at high density for maximum utilization of warehouse space. There are many different types of industrial shelving with each one designed for different purposes.
Shelves are often used in supermarkets or stores to display items for sale or items that have been sold already.
Different Types of Racking Frames For Your Storage Needs
Racking frames are the primary system for storing goods in a warehouse. The type of goods that are stored in this type of system changes based on the type of racking frame that is used.
There are two types of racking frames used for storing goods in a warehouse. These are palletizing racks and storage racks. Palletizing racks are used to store large, bulky items while storage racks are used to store smaller, more delicate items. Storage racks can come in a variety of different shapes and sizes depending on the needs of the customer.
When deciding which type of rack to use, there is an important consideration between floor space and height needed to store products on the rack. Palletizing racks take up less floor space but there is a need for more height.
The Ideal Racking System For Your Business
There are four points that we should consider when we decide on a racking system:
The size and shape of your product:

The types and number of products:

The ways your products will be used:

The cost of the system
When it comes to the design of a storage system, you need to know what your priorities are. Do you want the items stored to be visible? Are you looking for easy access? Do you need storage space for other items such as materials and products?
The first step is making a list of all the key points that should be met in order for your storage system to function optimally and then narrowing down your options from there. It is also important to consider how long you plan on storing this equipment and what level of accessibility that will require.