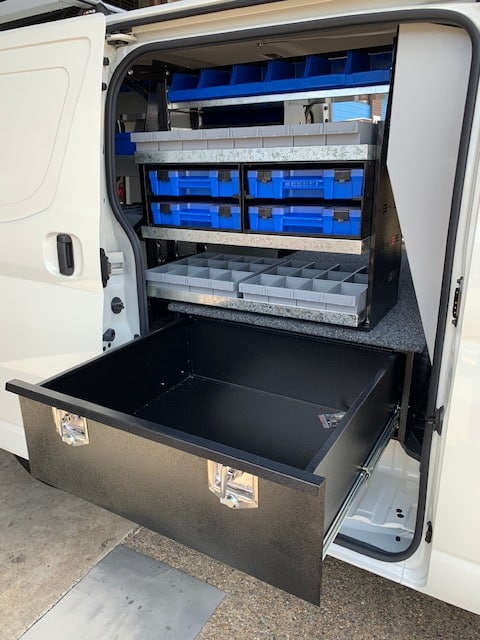 KAT Van Shelving systems are the only van shelving systems manufactured in Australia that carry a patented design. Their innovative design incorporates a number features that are not found on competitors' products, including the innovative shelf adjustment system providing easy adjustment of the shelf position, as well as an industry leading 60kg load rating per shelf.
Another unique feature to the KAT Van Shelving System is the patented mounting system that provides the most secure, durable and rigid mounting and eliminates sway and vibration commonly found with other systems. This solid mounting is achieved with the bare minimum of modification to the internal aesthetics of your vehicle.
In addition, the KAT Van Shelving System  is the only van shelving System on the market that offers these enhanced features in a simple Do-It-Yourself (DIY) Assembly & Installation.
AVAILABLE HEIGHTS AND WIDTHS
KAT's shelving systems are available in 7 different heights and three different widths.

STANDARD VAN SHELVING SYSTEM RANGE
Whether your business is small or large. one of the fundamental keys to running it efficiently is organisation. This applies equally to your work vehicle. Having a designated place for everything makes organisation a breeze. A vehicle fitted with a quality KAT Van Shelving System means everything is at your fingertips, which allows for greater stock control, improved efficiency and better customer service. It will also enhance the professional image of you and your business leaving a lasting impression on your customers.
With over 20 kit configurations available in the standard range KAT Van Shelving Systems  will easily organize and maximize the space in your work vehicle. Available in 7 heights and 3 widths to suit most makes and models of commercial vans and Utes. Whether you require just open shelves for your van or storage with a variety of plastic storage bins, there is a combination to suit every need. The added bonus of a KAT Van Shelving System is the flexibility to easily add components as your storage needs change.
Don't forget there are also range of KAT Van Shelving System kits designed specifically for each trade.
Don't see a shelving system that meets your needs? – No problem!
KAT Van Shelving System components are easily interchangeable – simply mix and match our components to suit your requirements; the hardest thing is just picking out which components suit your needs.
And, because of the versatility of our shelving systems, you can always add different components down the track when your needs change.